Hear how Let's Get Real has evolved from a podcast into a TEDx talk on this week's episode. Erica Wides talks about how she went from the world of guerilla PR to the main stage for TEDx Berkeley. Later, Erica performs her TEDx speech for her Let's Get Real listeners. What distinguishes real food from foodiness? Learn how 'the real food movement' falls short and doesn't serve the people who really need it. Erica doesn't preach compromise, but talks about realistic goals for consumers. This program has been brought to you by Cain Vineyard & Winery. Music has been provided by Idgy Dean.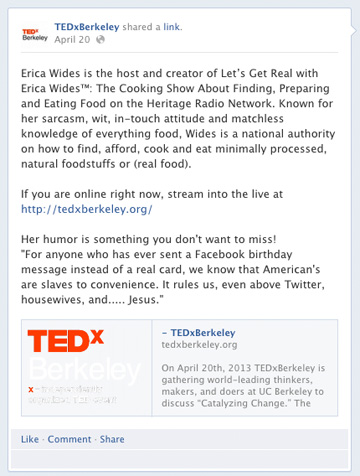 "Processed foods are super convenient. All you need is a hand, a mouth, and a dollar." [13:10]
— Erica Wides on Let's Get Real

Cereal has been a part of Americans' breakfast since the 1950s, but Erica Wides is here to tell you that- once again- the public has been hoodwinked by Foodiness. This week on Let's Get Real, Erica is diving into a big bowl of sugary cereal to tell listeners that cereal isn't real food. Tune into this episode to hear how industrial agriculture has taken over the Midwest to turn grains into corn syrup clusters. How have the fake food corporations brainwashed people to believe that breakfast cereals are a necessary part of every morning? Listen in to learn how some cereal brands have expanded to make other foodiness products in addition to their unhealthy, bastardized oats! Thanks to Cain Vineyard & Winery for sponsoring today's program, and thanks to Knifeshow for today's break music.
"Cereal is the quintessential foodiness product because we were raised to believe in it." [6:45]
"If cereal was the original foodiness product, it has gone even further down the rabbit hole because now there are foodiness versions of foodiness those products." [18:00]
— Erica Wides on Let's Get Real