Week in Review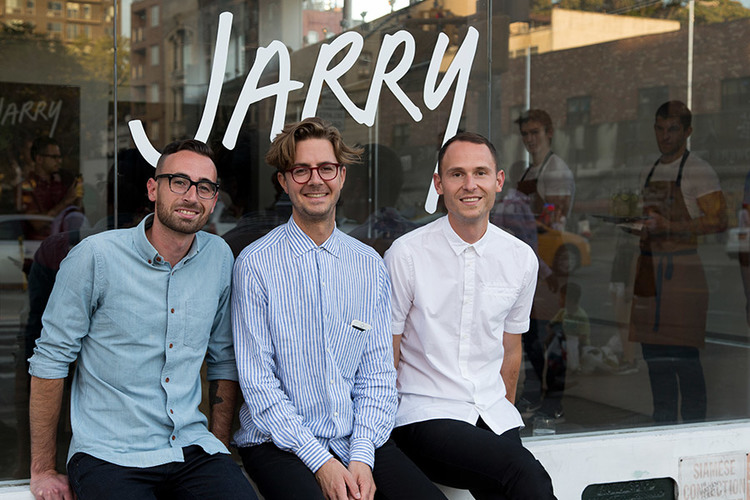 Sushi Boss, Pope of Peppers, and Lady Chefs
This episode of Week in Review covers the evolving role of female chefs in the restaurant industry, how to order sushi like a boss, "The Pope of Peppers," and plenty of dad jokes. On "The Breakdown," Jack and Erin talk to Lukas Volger of Jarry magazine on the upcoming panel discussion with Startout about food entrepreneurship in the LGBT community.
Last Great Bite
Every episode of Week In Review opens with a recap of the last great thing Jack and Erin ate, and how you can try it too.
JACK:  Foreign Correspondents in Houston, which ranks among his top Thai spots in the country -- "Up there with Pok Pok." Highlights were not limited to garlic oil rice steamed with blood, mushroom laap, and khao soi.
ERIN: Wassail, the cider bar on Orchard St, which celebrated its first year anniversary last night. Spectacles included shooting cider straight out of the barrel into glasses.
Featured Episodes
Get caught up on the highlight reel of clips from the last week of HRN's programming.
The Front Burner
Episode #10 Toward a More Perfect Kitchen (3/24/16)
Hosted by Andrew Friedman and Jimmy Bradley (co-host Erin Fairbanks!)
With guests:
Emma Bengtsson, Chef at Aquavit in Manhattan
Alina Martell, Pastry Chef of Ai Fiori and Vaucluse
Karen Palmer, Executive Editor of Tasting Table
Cindy Pawlcyn, of Mustards Grill and Cindy's Backstreet Kitchen
Japan Eats
Episode #37 An American Sushi Chef (3/21/16)
Hosted by  Akiko Katayama
With guest Robby Cook, executive sushi chef at Morimoto, co-author of the Complete Guide to Sushi and Sashimi
A Taste of the Past
Episode #231 From Harissa to Berbere and Beyond: History of Hot Sauce (3/24/16)
Hosted by Linda Pelaccio
With guest Dave Dewitt, "Pope of Peppers" and founder of the National Fiery Foods & Barbecue Show
The Breakdown:
A guest or caller from around the industry joins the show to talk about their recent work.
Jack and Erin speak with Lukas Volger, founder of Jarry Magazine (@jarrymag) about the upcoming partnership with Startout Panel Discussion on food entrepreneurship in the LGBT community. It takes place on April 6, 2016 in midtown NYC. The panel consists of notable guests, Casey Elsass, Gerardo Gonzalez, Crista Freeman and more notable members of the food community. HRN will be onsite recording the conversation for future broadcast!
Also, check out Gay Food 101: A Food Book Party
Big-Ups:
Jack and Erin "big up" people, places, and things they're totally digging right now.
JACK: Darin Bresnitz, host of Snacky Tunes, is getting married this weekend!
ERIN: Jee Won Park, communications and PR professional who has been working closely with Heritage Radio Network on our plans for 2016.